Worcester 'arts quarter' plans submitted to council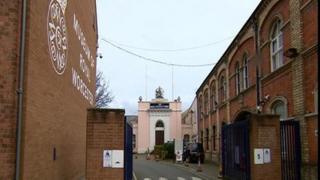 Plans for an "arts quarter" on the Royal Worcester Porcelain site have been submitted to the city council.
The £10m project, which has been in development for a year, will include cafes, bars and restaurants, as well as workshops where architects hope porcelain making may be revived.
Managing director Vincent Kirk said the "amazing idea" was inspired by Paris's artistic Left Bank.
He said if approval were granted, work would start at the end of 2014.
'Retain the name'
Mr Kirk, from KKE Architects, said the scheme would "regenerate" the old porcelain works.
"It's going to be a place people can visit," he said.
"We will have bars, cafes and restaurants, as well as workshops and studios. A lot of the Royal Worcester artists and craftsmen still live in the area and we are hoping to get them back on the site, designing, making and selling porcelain."
The former works closed in 2008, after more than 300 years of production on the site.
"They were a global brand - the Microsoft of their day," said Mr Kirk.
He added the new porcelain production plans were more "studio-based". Worcester University also hopes to run a design course on the premises.
Mr Kirk added the development would retain the name Royal Porcelain Works.
The site is owned by The Bransford Trust, which oversees several art projects in the city.
Amanda Savage, from the Museum of Royal Worcester, said she thought the proposed development was "exciting for the city".
She added the museum was seeking Lottery funding to refurbish the museum. "We hope the two developments will work hand in hand," she said.