Craig Prentice: Redditch cardiac arrest campaigner dies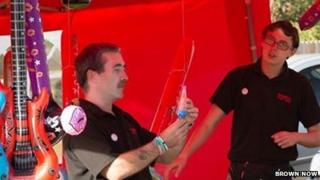 A teenager who campaigned for defibrillators to be compulsory in schools after his sister's death has died from a cardiac arrest.
Craig Prentice, from Redditch, died on Tuesday aged 17.
His sister, Charlotte, 16, died in 2010 from Sudden Arrhythmic Death Syndrome.
Tests were carried out on her siblings after her unexpected death and it is believed Craig's results caused concern.
Their parents, Robert Underwood and Margaret Prentice, said: "We have been struck twice by this evil silent killer, nearly three years to the day we lost our Charlotte."
Anne Jolly from the charity SADS (Sudden Arrhythmic Death Syndrome) said: "To lose one child is devastating enough but to have another child die from a cardiac arrest is absolutely devastating.
"There is a possible genetic link but there's so much more research needs to be done into the areas of SADS, it's a very complex subject."
Since 2010 the family has fundraised and campaigned for defibrillators to be compulsory in schools in England.
In June they handed an 8,000-signature petition to Downing Street.
Mr Underwood said he believed a defibrillator would have saved his daughter's life.
The SADS charity said 270 cardiac arrests occur in UK schools each year.
Conservative MP for Redditch, Karen Lumley, said: "They've been to London and they've presented petitions to the prime minister on this issue trying to get it to be mandatory in schools that children learn how to use defibrillators.
"This [Craig's death] will spur me on to make sure we work harder and harder to try to achieve their aim."