Evesham Abbey Bridge opening delay 'causing real hardship'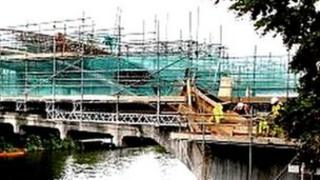 A letter has been sent by a council boss urging a building firm to complete an £8m bridge as "a matter of urgency".
The Abbey Bridge, in Evesham, should have reopened last month but it might now not be ready until March.
In a letter to contractor Hochtief, Wychavon District Council leader Paul Middlebrough said the delay was putting firms under threat of closure.
Hochtief has not yet commented on issues raised in the letter.
Mr Middlebrough has urged a director for the firm to visit the town to see the "economic damage" the delays in re-opening the bridge, which is the main route into town.
"I would request Hochtief Europe look into the dealings of your UK arm as a matter of urgency so that the reputation of company (sic) doesn't suffer any more and, more importantly, the damage to our community is minimised," the letter said.
'Years to recover'
The Abbey Bridge was originally due to be closed for 10 weeks from September.
Traders have said their sales are suffering as a result of the closure.
The letter said the delay was causing "real hardship to shops and markets" and said it could take the town "years to recover" from the damage caused.
Mr Middlebrough said it looked as though the bridge would not reopen in March and final completion could be in the second half of 2014.
The letter added: "I would like... one of your directors to visit us here in Evesham to offer a solution to the economic damage."
The BBC has asked Hochtief for a comment.