Herefordshire's Michaelchurch Escley Primary faces closure threat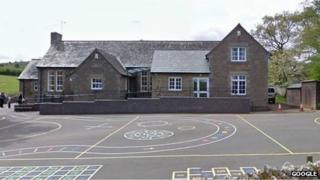 One of the most isolated schools in Herefordshire could close due to falling rolls, the county council said.
Two teachers at Michaelchurch Escley Primary are due to step down in January, after the school looked to cut its teaching bill.
Herefordshire Council said this would leave the school with insufficient teachers "to ensure quality of teaching and children's welfare".
The 40 pupils are expected to move to Longtown Community Primary.
The two schools, some four miles apart, are currently in a federation, which is designed to provide mutual support.
The local authority said governors were planning to accommodate pupils at Longtown, although would be consulting with parents before a final decision is made.
Michaelchurch Escley has faced falling pupil numbers in recent years, putting pressure on the school's budget.
The latest plans, while temporary, could become permanent, Herefordshire Council said.
Jo Davidson, director for children's wellbeing at the council, said: "There will be a separate conversation about this with parents in the new year when the governing body knows what the number of pupils is likely to be for September 2014."
The governors have been unavailable for comment.