Evesham bridge delay 'disappointing and unacceptable'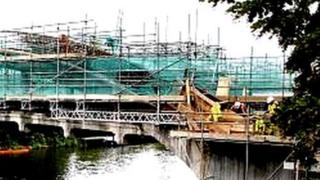 A bridge that was due to be closed for 10 weeks from September will not reopen until early next year, at the soonest.
The £8m project to replace Abbey Bridge in Evesham, Worcestershire, was already behind schedule when it started.
It is the main route into the town and traders have said their sales are suffering as a result of the closure.
Last month the county council promised the bridge would be open by the end of November and the contractor said it would reopen before Christmas.
Councillor John Smith had pledged that barring "two foot of snow or torrential rain" cars would be able to use the bridge for "at least one whole month in the run up to Christmas".
He called this latest announcement "bitterly disappointing and totally unacceptable".
'Final nail in the coffin'
Just two weeks ago contractor Hochtief said the route would reopen by 20 December.
Operations director Sean McCallion said: "High river flows restricting marine movements, winds speeds disabling crane usage and unexpected conditions encountered during demolition of the old bridge regrettably caused major programme delays."
Michael Arrans, who owns a garage near the bridge, claimed he may have to close until the new year.
"It's just another nail in the coffin, we can't ride the storm any more.
"I'm considering getting legal advice to see if there is any chance of compensation.
"We don't get passing trade. We're losing money because no-one goes to a petrol station in what is effectively a cul de sac.
"It beggars belief."