Worcester City cancel St Modwen Nunnery Way stadium deal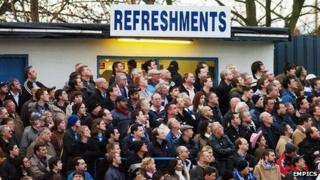 Worcester City football club has been saved from potential closure after reaching an agreement to scrap plans to build a new stadium.
The club has agreed terms to cancel a contract with developers St Modwen for a new ground at Nunnery Way.
Directors said the club would have been financially ruined by the deal.
City left their old home at St George's Lane in the summer after 108 years and have been playing this season's home games in Kidderminster.
The contract was provisionally scrapped in June but was only confirmed on Monday after months of talks between St Modwen and Worcester City.
The exact terms of the contract cancellation are being kept confidential.
'Join forces'
A joint statement said the club would receive enough of the £1.2m it paid St Modwen in infrastructure costs to pay a capital gains tax bill on St George's Lane, which is about £400,000.
There would also be money left over to put towards a new stadium, it said.
Club chairman Anthony Hampson said: "The board of directors believe that this agreement will go a long way towards securing the club's future and remain grateful to St Modwen for accommodating the club's request."
The club have not commented on other sites where the stadium could be built.
The supporters trust has developed a plan for a 4,000-seat stadium, costing £2.1m, at Perdiswell.
Rob Crean from the trust said it "freed the club up" to look at their proposals.
"The club can now join forces with us because they had their hands tied slightly by the St Modwen deal and couldn't fully commit to it. Hopefully now they will."