Hereford County Hospital 'put patients at risk', says MP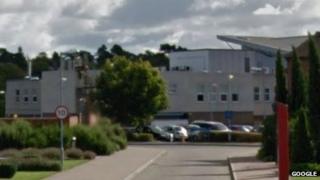 A faulty ventilation system at Hereford County Hospital may have posed a "serious threat" to patient safety, an MP has claimed.
Jesse Norman, the Conservative MP for Hereford, said he read about the issue in a consultant's report which was leaked to him.
He described the situation as an "absolute scandal".
Wye Valley NHS Trust said the problem was now resolved and there was "no evidence" patients had been at risk.
'Pushing bugs out'
Mr Norman said he was concerned the operating theatres in the hospital, which was funded through the Private Finance Initiative (PFI), may have been spreading infections via its ventilation system.
"Normally operating theatres are intended to be under positive atmospheric pressure which keeps microbes and contamination out," he said.
"What these documents seem to show is that the pressure here wasn't adequate and contamination was building up.
"In one case, it seems the ventilation was the wrong way round and was pushing bugs out into the hospital.
"If that's true it may pose a serious threat to patient safety. I was appalled to see this."
Mr Norman said he would raise the issue with the health secretary.
Peter Wilson, the trust's medical director, said: "We were made aware there was a problem in a few of the theatres, so we acted very quickly to make sure we only operated in areas that were safe.
"All of the theatres are now working properly and are safe and we are catching up with the work we have had to postpone."
He added: "It's very disappointing but we have no evidence microbes can spread from one place to another."