Charity Staffordshire Bull Terrier walk to support breed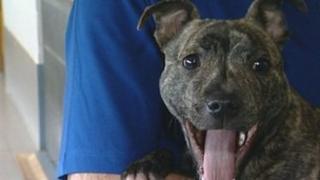 More than 80 Staffordshire Bull Terriers and their owners have taken part in a charity walk in Herefordshire to change perception of the breed.
Members of the county's Staffordshire Bull Terrier Club walked in Hereford town centre and said they wanted to challenge the dog's poor reputation.
Kelly Saunders, from the club, said they were a "misunderstood breed".
Last month, animal charity Blue Cross said it was being "overwhelmed" by the amount of the dogs being brought in.
Its records show 331 of the dogs were accepted into shelters last year, compared to 198 in 2008.
Ms Saunders said the money raised will go to local rescue centres.
"They are such a misunderstood breed," she said. "They are fantastic family dogs in the right hands.
"We have people that pick up their kids and cross the road when we walk down with our dog."