River Severn's 'rogue seal' to be caught and relocated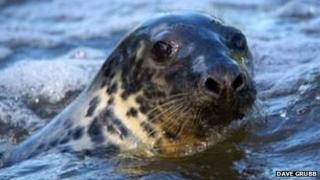 Fishermen have been given the go-ahead to capture a grey seal that has been swimming in the River Severn for the past year.
The Anglers Trust said the animal was depleting fish stocks and originally wanted it shot.
Now conservation group Natural England has granted a licence to have the creature removed and relocated.
The mammal, named by locals as Keith, may not be the only seal in the Severn as a second one has been spotted.
Noel Connelly, who runs a holiday home rental business in Worcestershire, said he saw both seals at Diglis Lock in Worcester.
"They sit on the pontoons and make themselves comfortable," he said.
"We thought one of the seals was a male but now, because it is six or seven feet long, we think it is a female."
'Novelty value'
Mal Storey, who owns an angling centre in Worcestershire, said anglers were upset about the situation.
"It was a novelty value to start with, but unfortunately [the seal] has been sighted by lots of anglers eating a lot of fish and it is destroying the fish stocks, which hasn't gone down well."
It is thought Keith swam from the sea into the river through flood water before first being seen in the Severn in November 2012.
Speaking before the licence was granted by Natural England, the chief executive of the Angling Trust, Mark Lloyd, said he believed the seal had become "semi-tame".
"It's very rare they stay in rivers for so long," he said. "I think it's because people keep feeding it. Now it's following boats around for food.
"It's very frustrating."
The Mercia Inshore Search and Rescue Team will wait until there has been a firm sighting of Keith before carrying out the job of catching and relocating Keith to the sea.