Ex-teacher Jonathan O'Brien 'abused pupils in darkroom'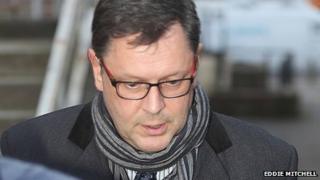 A former teacher accused of sex offences allegedly committed while he worked at private schools abused pupils in a darkroom, a court has heard.
Jonathan O'Brien, 55, of Bosham, West Sussex, denies 23 counts of indecent assault and five counts of gross indecency at Chichester Crown Court.
It is claimed the offences involved 12 boys aged from 10 to 16.
The offences are alleged to have taken place in Worcestershire and Oxfordshire between 1982 and 1988.
Prosecutor John Causer said Mr O'Brien used his charm and good looks to attract his victims and made them believe he was "sharing a secret" rather than "forcing something on them".
Jurors heard boys allegedly abused by Mr O'Brien at Winterfold House School, Worcestershire, and The Oratory School, Oxfordshire - both high achieving academic schools - were clever, slim, blonde, blue eyed and sporty.
The court was told Mr O'Brien, of Fairfield Road, abused pupils in a darkroom at Winterfold under the guise of giving photography lessons.
Mr Causer told the court the darkroom was ideal for what the teacher wanted because it had a lock on the door and a warning sign outside.
"The photography was the pretence," he said. "In fact, many of the boys did not use a camera at all."
'Beer and cigarettes'
The court was told Mr O'Brien would use extra tuition sessions to get one-to-one contact with victims, ingratiate himself with boys' families, and also exploit the loneliness of unpopular boys or those whose parents lived abroad.
Jurors heard he abused their sexual naivety by showing them pornography.
"He would promote his favourites in sporting teams or school plays, even if they were no good at either," Mr Causer said. "Or he would give them beer, spirits and cigarettes."
The court heard both schools were religious foundations and Mr O'Brien would use "religious blackmail" by getting boys to swear on the Bible or telling them he had been commissioned by their parents to explain the facts of life.
The case continues.