Folk singer Roy Harper charged with child sex offences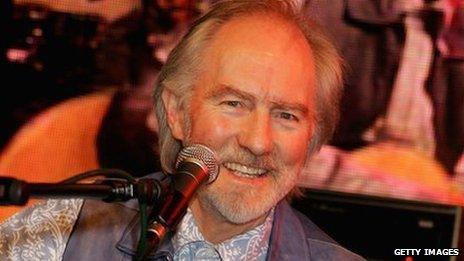 Folk singer Roy Harper has been charged with sexually abusing a girl from the age of 12.
The 72-year-old is due before Hereford Magistrates' Court on Monday accused of nine counts of sexual assault.
West Mercia Police said the offences are alleged to have been committed in Herefordshire between 1975 and 1977 and relate to one victim.
Mr Harper, who lives in the Republic of Ireland, has performed with Pink Floyd and was an influence on Led Zeppelin.
The summons was issued to the musician, of Rossmore, Clonakilty, County Cork, on 16 October, after he was voluntarily interviewed by police at Heathrow Airport on 22 February.
Mr Harper has produced more than 30 albums during his career and performed on a sold out tour, last month.
He sang lead vocals on Pink Floyd's Have a Cigar on their 1975 classic album Wish You Were Here and was awarded the MOJO Hero Award by the music magazine in 2005.
Related Internet Links
The BBC is not responsible for the content of external sites.