Pay-off to Worcestershire council head Trish Haines defended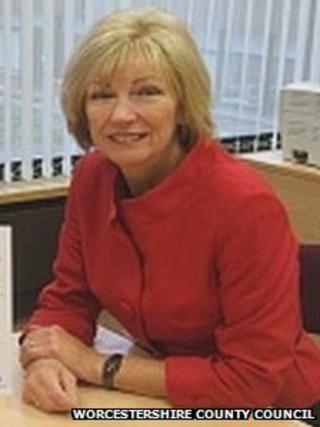 Worcestershire County Council has defended its decision to spend about £95,000 to help fund its chief executive's early retirement.
Trish Haines announced on Monday she would be stepping down "next spring".
The Conservative-run council said it was paying the money directly into her pension scheme after mutually agreeing she would not be given severance pay.
Her departure comes a month after the authority announced £90m of cuts with more than 600 jobs going by 2017.
The opposition leader on the council, Labour's Peter McDonald, has described the payoff as "absolutely obscene".
He said: "There can't be any justification for this because people who are out there working at the sharp end don't get treated like this.
"They're being threatened with cuts, redundancies, reducing working hours, zero contracts which makes this even more outrageous."
Smaller salary
Council leader Adrian Hardman said Ms Haines's retirement was in "the interests of the efficiency of the council".
"Trish Haines has served us very well but we need a new chief executive who has a fresh outlook," he said.
"There is no redundancy or severance payment because it is a mutual separation that we believe is in the long-term interests of the council."
Mr Hardman said the authority would run a recruitment campaign during the next couple of months to find a successor to Ms Haines.
He said it planned to pay the new chief executive about £25,000 a year less than the £176,000 she was paid last year.
Ms Haines said her time at the council had been a "fantastic final chapter" of her career.
"I am particularly proud that despite very challenging financial circumstances, the council has improved the services residents said were most important to them," she said.