Daniel Martin jailed over loan shark Andrew Heath fire death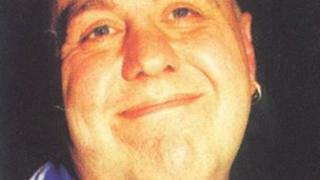 A man who killed a loan shark to whom he owed money has been jailed for 10 years.
Andrew Heath, a convicted sex offender, died in a fire in Worcester after bins were set alight and pushed into his porch, Birmingham Crown Court heard.
Daniel Martin, 25, of Canterbury Road, Ronkswood, Worcester, admitted the manslaughter of 52-year-old Mr Heath in May. He was Mr Heath's biggest debtor.
He was sentenced to three years for burglary and six months for assault.
The sentences are to be served concurrently.
'Shockingly stupid'
In sentencing, the judge, Justice Catherine Thirlwell described Martin as "a liar" and "thoroughly anti-social" but added he had been "shocked and remorseful about what happened".
She said: "It is very likely you were on drugs when the attack took place. You didn't intend to kill - but what you did was shockingly stupid."
The court heard Mr Heath died after inhaling smoke in the fire in the early hours of 14 December 2011. His burned body was found slumped against a radiator.
She said the experience must have been "terrifying" for Mr Heath, "leading - as he must have been aware - to his certain death".
West Mercia Police said Mr Heath ran a money-lending scheme in the Warndon area of Worcester but had debts of his own and died owing about £7,000 to £8,000 to doorstep lenders, payday loan companies and catalogue firms.
A debtor's book belonging to Mr Heath revealed Martin carried the biggest debt to him.
A high-profile investigation followed the fire, including an appeal on Crimewatch and the release of a recording of the harrowing 999 call Mr Heath made when he discovered the blaze.
Several people were arrested over the 18-month investigation, including Martin, who originally appeared in court charged with murder.
There had been no DNA evidence or CCTV footage to link Martin to the arson attack, police said.
But Martin - a known drug user who had served time in prison for drugs and burglary offences - owed "several hundred pounds" to Mr Heath.
'Harrowing 999 call'
Det Ch Insp Paul Williamson said it had been a complicated and "tough case to crack" which cost about £250,000 and saw officers pursue nearly 3,500 lines of inquiry.
Two other people, including Mr Martin's sister, Sarah, and another man, have been found guilty of perverting the course of justice.
During the investigation police confirmed Mr Heath had five convictions in the 1980s and 1990s, before moving to Worcester, for gross indecency and indecent assault against teenage boys in Leicester and Birmingham.
West Mercia Police said his last conviction was in 1999, when he was given three years probation for indecent assault.
He was jailed in 1984, 1989 and 1992 for gross indecency and indecent assault.
Nevertheless Mr Williamson said officers were determined to solve the case.
"Whatever Andrew had done in his previous life nobody deserves to die in those circumstances," he said.
"It was very much for Andrew that we were so painstaking in our enquiries and were not going to let this case go."
Mr Williamson said it was "very upsetting" that Mr Heath's parents would never know their son's killer was brought to justice because they both died in the year following his killing.
"The family very much helped me do a press conference in January 2012 asking the community to help find answers.
"It's taken a long time to get to this point and the tragedy is Les and Helen aren't around to hear that.
"I know the rest of the family hold Andrew's death as a key factor in their demise."
Mr Heath's sister Leia Charleson said her parents had been unable to come to terms with what happened.
"Both of my parents passed away without having an answer to their only son's death, and before Daniel Martin admitted his guilt," she said.
She welcomed the outcome as giving "some comfort" for the family.
"Despite what Andrew did in the past, he did not deserve to die in such a cruel way," she said.