Worcester swimming pool plan 'could be scrapped'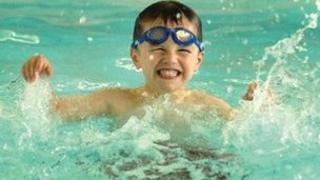 Plans to build a new swimming pool in Worcester could be scrapped because of "extreme funding cuts", the city council has warned.
Worcester City Council had planned to build a £13.5m competition standard, eight-lane pool in Perdiswell.
The authority said it was now looking at a scaled down plan which would only go ahead if it could reduce the amount it needed to borrow to build the pool.
The council is planning to cut about £4m from its spending budget by 2019.
As part of its budget plans set out on Monday, the authority said it could now only afford to build a six-lane pool if it could be "part-funded by an enabling development such as a new supermarket."
'Extreme' cuts
It said it could also not subsidise the building for 40 years "as was currently proposed."
The council submitted a £2m bid to Sport England in October to help fund the building of the new pool to replace the existing 1960s building at Sansome Walk.
Richard Boorn, cabinet member for finance, said: "The severity of cuts in our funding from government is the most extreme we have ever had to cope with.
"We are looking at reduction of over 50% by 2018/19 and we may learn in December that the cuts are even deeper.
"I have asked our officers to prepare a realistic plan to deal with these unprecedented challenges and that means we have to consider every option available to us, including reigning in our ambitions for a new eight-lane swimming pool."