Worcester Warriors explain halting of fireworks display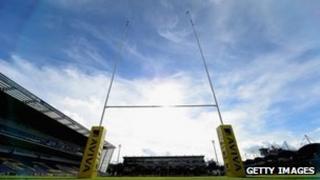 Safety of spectators and motorway drivers was "carefully considered" before a fireworks display at a rugby ground was halted, the club says.
Three small fires broke out at the Worcester Warriors' Sixways ground during the event, on Saturday night.
The club said continuing for the last five minutes would have presented "an unacceptable risk" because of the wind's unpredictability.
Crews put out fires on the roof of a hospitality suite and on a marquee.
'Very safe distance'
The club said the scheduled 50-minute event, which included a planned 16-minute firework display and other entertainment, ended early after "six pieces of firework debris were blown off-course due to an unpredictable change in wind direction".
Warriors head of operations Brian Ryan, said the debris landed within an exclusion zone in the stadium and "at a very safe distance from any spectators".
He added: "With immediate effect, the fireworks were stopped using a pre-determined procedure as set-out in our event management and contingency plan. The fire service was called immediately as a precautionary measure.
"At this time spectators were advised via the stadium PA system to remain in their seats while the situation was being assessed and to allow ease of access for the fire service into the complex.
"The fire service attended and inspected all areas in which the debris had fallen, and took precautionary measures to ensure there was no risk of fire ignition within the areas affected."
The club said "as a gesture" to those who attended, it was offering a free ticket to the LV= Cup game with Leicester Tigers on 15 November.
These were being offered on a "like-for-like" basis, so an adult could claim an adult ticket and a child's ticket would entitle them to a juniors ticket at the rugby match.