Baynhall Meadow wildflower field bought by wildlife trust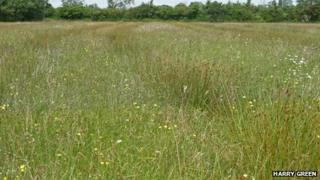 A meadow in Worcestershire containing rare plants and traces of medieval farming has been bought by a wildlife trust.
Baynhall Meadow, near Naunton Beauchamp, has been bought for £20,000 by the Worcestershire Wildlife Trust.
The money was donated by the waste contractor for the county council.
Helen Woodman, from the trust, said the one hectare site is "one of the best ridge and furrow hay meadows in the county".
She said the meadow contains a few plants that are scarce in Worcestershire including dropwort, dyer's greenweed and adder's-tongue fern.
"The fact that the medieval farming landscape of ridge and furrow is still so visible demonstrates just how little ploughing, or other disturbance, the field has had over the last few hundred years," she added.