700-year-old sheet music found in council archive move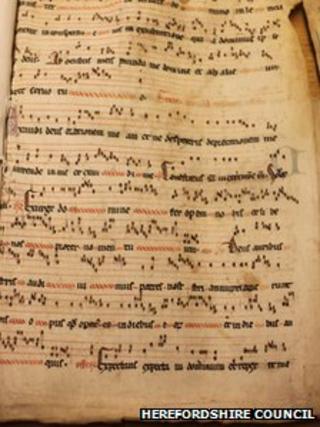 A "rare" piece of sheet music that is thought to be 700 years old has been found in a council archive.
The document, believed to be from the 14th Century, was found in Herefordshire Council's archives.
Council archivists said the discovery, found in one of 17,000 archive boxes, was "a rare and fascinating find that must be preserved".
The boxes were being re-packaged for a move to a new archive centre on Rotherwas Industrial Estate, Hereford.
'Thousands of documents'
Roger Philips, the council's cabinet member for enterprise and culture, said: "Moving the archives is a monumental task.
"During the process, we have found fascinating documents including a rare sheet of medieval music.
"It is imperative that this document, and others we find like it, are preserved for future generations."
He said the archive potentially included "thousands" of similar documents.
The new archive centre is due to open in 2015.