Redditch United Football Club unveil relocation plans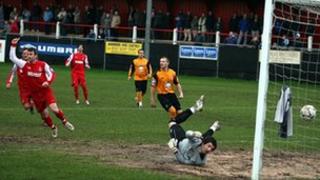 Redditch United Football Club have unveiled plans to move to a new multimillion-pound stadium.
The non-league club, based at council-owned Valley Stadium, have earmarked a piece of land at Washbrook for development of a multi-pitch ground.
Current facilities are no longer fit for purpose, the club said.
But the borough council said the land is a green field site and changing its use would "run up a number of costs". It now wants talks to continue.
The team currently play in the Evo-Stik League Southern Premier Division.
Redditch FC chairman Chris Swan said: "This is a fantastic club with a wonderful history.
'Risks outweigh benefits'
"But to be brutally honest, the facilities at Valley Road are no longer acceptable on any level.
"The dilapidated stands, the threadbare pitch, the totally inadequate and drab changing facilities and outdated clubhouse do not match a club of this standing or ambition, and they certainly do not reflect the stature of the town the club represents."
He said the proposed site, on council-owned land in a commercial zone at Icknield Street Drive, on the outskirts of Redditch, would include six grass pitches, a first team pitch and an artificial pitch.
In response, Sue Hanley, deputy chief executive for leisure at the council, said: "We acknowledge the substantial benefits which could be realised from a relocation, but consider the risks to outweigh the benefits to the borough and communities.
"I have asked officers to continue to provide support and an ongoing dialogue with the club, and hope we have the further opportunity to meet and discuss the issues."