Hereford footballer died from blocked artery, tests reveal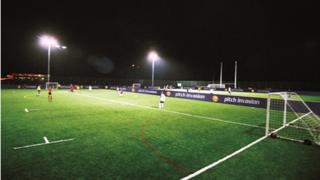 The death of a six-a-side footballer from Hereford was due to heart failure, a post-mortem has revealed.
Rui Mario Raimundo, 36, who was born in Germany but lived in Tupsley, was playing in a football match at Hereford Academy on Thursday when he collapsed.
He died at Hereford Hospital a few hours later.
A spokesperson for the Hereford Coroner's office said a post-mortem had revealed Mr Raimundo was suffering from a blocked artery.
She added they would not be carrying out further investigations.
Mr Raimundo is believed to have played only a few times for the team, Inter Yanan, in a weekly competition involving 30 sides.
Craig Davies, general manager of Pitch Invasion, a national organisation which organises the tournament, said players would hold a one minute silence as a mark of respect to Mr Raimundo and the match fees would be donated to his family.
He said: "Pitch Invasion's thoughts go out to the player's family and friends."