Torah scroll returned to Herefordshire Jewish community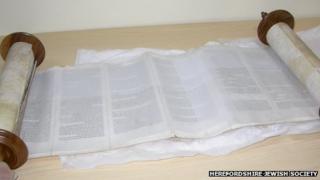 A Torah scroll previously kept at a museum has been returned to members of the Jewish community in Herefordshire.
Members of the community have raised more than £500 to conserve the Sefer Torah scroll, which was gifted to the county's museum in 1933.
Mark Walton, chair of the Jewish group, said the scroll - a handwritten copy of the holiest book within Judaism - was "hugely significant".
Museum staff said it felt right to return the scroll to the community.
The group has funded the repair of the stitching of the scroll, which has been repaired by Herefordshire Archives.
'Continuity of tradition'
Mr Walton said: "The Torah scroll contains the first five books of Moses, from which we read a section every week in synagogue.
"This is the high point of our services. We use it as the basis for teaching and learning.
"It also has a hugely significant importance as a symbol of our continuity of tradition."
A spokesperson from the museum said staff knew very little about the origins of the scroll except that it had been stored for 80 years, including 10 years in a purpose-built climate-controlled environment.
It was donated to the museum by Colonel Tudor Fitzjohn, described by staff as "a distinguished military man" of the 4th battalion Worcestershire regiment.
The scroll was recently put on display before the Herefordshire Jewish community contacted the museum to ask about using it.
A replica version has been used for Jewish services until now, the group said.
A ceremony to mark the return of the scroll to the community was held at 11:00 BST.