Evesham cannabis factory was 'large-scale enterprise'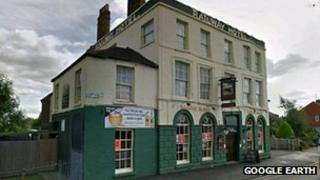 Drugs thought to be worth about £500,000 have been seized after a cannabis factory was discovered in Worcestershire.
Officers searched the Railway Hotel in High Street, Evesham, and found more than 700 cannabis plants growing in a flat above the premises.
Plants and equipment used in the "large-scale commercial enterprise" were removed on Tuesday night.
Police said officers had received a tip-off about "suspicious activity".
No arrests have been made.
Det Insp Neil Austin, from West Mercia Police, said: "This is a large-scale commercial enterprise with more than 700 cannabis plants ranging from seedlings to mature plants."
Police said the value of the drugs was about £500,000.