Kidderminster nurse struck off for leaving amputee on floor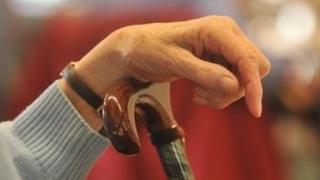 A nurse who left a one-legged elderly man on the floor for 15 minutes "to teach him a lesson" while she smoked a cigarette has been struck off by the Nursing and Midwifery Council (NMC).
Kate Grant-Joseph, 36, was working at Bryden House Care Home in Kidderminster, Worcestershire, in 2011.
Her patient, known as Resident A, had a history of falling and was found on the floor.
Grant-Joseph shouted at him before leaving to go on a break.
Witnesses told the hearing Grant-Joseph told Resident A: "How many times are you doing this?
"What do you think you are doing throwing yourself on the floor?"
Undermine confidence
The panel was also told Grant-Joseph, who was the only registered nurse on duty, did not carry out checks on Resident A, telling him he should stay on the floor to "teach him a lesson".
A care assistant said she had tried to alert her colleague through the window to return to Resident A, but on seeing her, Grant-Joseph lit another cigarette.
The panel struck Grant-Joseph off the register on the grounds that public confidence would be undermined if she were to remain in the profession.
She has 28 days to appeal against the decision.