Blue plaque for Olympian and headmaster Godfrey Brown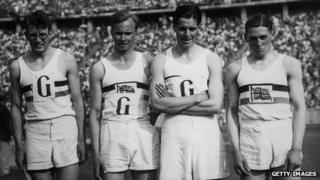 A blue plaque has been unveiled in Worcester for double Olympic medallist Godfrey Brown.
Mr Brown won gold in the 4x400m relay and silver in the 400m individual race at the 1936 Games in Berlin.
He became headmaster at the Royal Grammar School in Worcester in 1950 and retired in 1978. He died in February 1995.
The runner's grandson Freddie Brown said the plaque was a "wonderful" tribute to his grandfather.
He said he had "distant memories" of Mr Brown, who he said "would have been amazed by [athletes] like Usain Bolt and Mo Farah".
He said his grandfather had "thought sport was such a good thing to be involved in, including the many qualities beyond the physical activity".
He added that his family were yet to decide on where his grandfather's medals would be kept in the future.
'Deserved recognition'
Worcester Civic Society unveiled the blue plaque on the Tything in the city centre at 16:00 BST.
Phil Douce said the society reintroduced blue plaques in the city last year and Mr Brown's would be the third it had put up.
"Two big sporting names jumped out of the list for us - Godfrey Brown and the cyclist Ernie Payne, a 1908 Games medallist," he said.
"Both men deserve recognition for their achievements. We're still working on finding the right place to put up the plaque for Ernie Payne."
He added that the society hoped eventually to create a number of blue plaque trails for Worcester based on themes such as sport, medicine and architecture.