Hereford and Worcester Fire Authority 'not doing enough' to protect services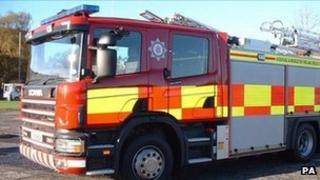 Five Worcestershire MPs have accused fire chiefs of not doing enough to protect frontline services.
Government budget cuts mean Hereford and Worcester Fire Authority (HWFA) needs to save £4.7m in three years.
Proposals include closing some fire stations and reducing the number of fire engines.
Conservatives Harriett Baldwin, Peter Luff, Mark Garnier, Robin Walker and Karen Lumley said there were other ways to make cuts.
In an open letter, they told the chairman of HWFA, Derek Prodger: "We feel the local fire authority is not doing enough, compared to other local public services, to find efficiency savings that do not affect the front line.
"For example, we would urge you to find more ways in which you could reduce overheads by collaborating with Shropshire and Warwickshire."
At a meeting on 3 October, the HWFA presented its proposals.
Mr Prodger told the meeting: "This will not be solved by tweaking back offices. We can do no more tweaking.
"There is no more room [for savings] without looking at blue light services."
The five MPs have also written a letter to Communities Secretary Eric Pickles, urging him to increase government funding for the fire authority.