Robert Wiseman dairy fire in Droitwich: Engineer injured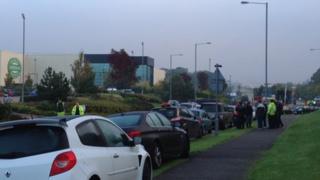 A large electrical fire has closed a dairy in Worcestershire.
At its height, 60 firefighters tackled the blaze at Robert Wiseman Dairies in Hampton Lovett near Droitwich on Monday evening. An engineer was injured.
Muller Wiseman Dairies said the fire had damaged a low voltage switch room. It said it could not reopen until the cause of the fire had been found.
It said it was increasing production in its five other dairies across the country to meet the demand for milk.
The ambulance service said the engineer had suffered a minor head injury.
'Cause and impact'
The fire was extinguished in the early hours of Tuesday morning.
Keith Chance from Hereford and Worcester Fire and Rescue Service (HWFRS) said it had been a "particularly complex incident due to the nature and layout of the building and the intensity of the fire".
The fire damaged 25% of the second floor, a HWFRS spokesman added.
Workers who turned up for the early shift at 04:00 GMT found that the dairy was closed and they could not get in.
BBC reporter Laura Safe said about 50 workers were left outside and 30 delivery lorries and tankers were parked along the access road to the site.
One employee, who did not want to be named, said: "We're all very shocked by what's happened.
"I've been waiting around for a few hours and nobody has told us when we're going to get back in and get some work done."
A company spokesperson said staff would work with the authorities to assess the "cause and impact" of the fire.
They added that the dairy would be brought back into operation "as soon as is practicable".