Plans to move Droitwich Spa brine bath revealed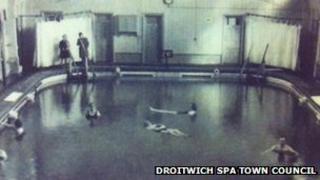 Plans to move Droitwich Spa's brine baths to a new site have been announced.
The baths, owned by the private BMI Droitwich Spa Hospital, have been shut since 2009 owing to problems with the upkeep of the building.
It said the baths were no longer fit for purpose because the water pumps and pipes had become heavily corroded.
At a meeting on Friday, Wychavon District Council said it would look for a brownfield site to build new baths.
Campaign group Save Our Brine Baths (SOBBS) started a project in March to raise £1m to reopen the facility.
'Practical solution'
William Moy, from SOBBS, said the group would instead use the money to help pay for the new building.
He said: "I'm disappointed that the old building won't be reopened but I do have to concede it probably isn't fit for purpose any more.
"The unit has been gutted, all that remains is the bath itself, so a new site is really the only practical solution."
He said he believed the cost of building new baths would not be more than the amount needed to refurbish the current facility.
Droitwich Spa became the only saltwater spa town in Britain when John Corbett created the first spa, St Andrew's Brine Baths, in 1887 as part of the Raven Hotel.
The first baths opened in the 1830s, taking advantage of the natural brine springs that have been used in the town since Roman times.