Stolen Rhythmicity instruments found by police after tip-off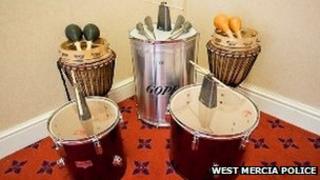 A trailer full of hundreds of stolen musical instruments worth about £5,500 has been found by police after an anonymous tip off.
The 30 drums and 200 percussion instruments were taken from Bewdley in Worcestershire on 30 September.
West Mercia Police said they found them in Spennells near Kidderminster after being contacted anonymously by a man who said he had bought the instruments.
They have been returned to their owners, Rhythmicity, police said.
Rhythmicity uses the instruments, which include tom-toms, African hand drums and tambourines, for workshops at schools, churches and businesses.