Council bids for £2m to build pool in Worcester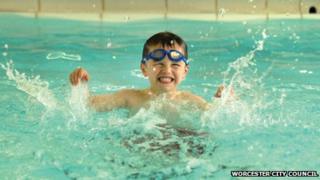 A council is bidding for Sport England money to bring a new £13m swimming pool to Worcester.
Worcester City Council is preparing the £2m bid for a six or eight-lane pool to replace the existing 1960s building at Sansome Walk.
The council has not yet determined the size of the pool but it would be built at Perdiswell in spring 2016 if it gets the go-ahead.
A spokesperson said: "We are in desperate need of a new pool."
They added: "The Sansome Walk pool is very old and only has another five years of usage in it.
"But we are still at the stage of looking to see what we can afford."
'Important project'
The council said it had had "very positive talks" with Sport England about securing a grant for the pool.
A team from the funding organisation will work alongside council officers to prepare a report to be submitted on 9 December.
If the proposal is backed, Sport England will decide in March whether to fund the project.
The council is also looking to central government, other grant organisations and possible sponsorship as ways of funding the new pool.
It will make a final decision on whether to progress with the scheme in June 2014.
Councillor Roger Berry, who represents communities, said: "Extra investment in such an important project would be very welcome.
"My fingers are crossed this bid will be successful."