First pupils at new Whitbourne village school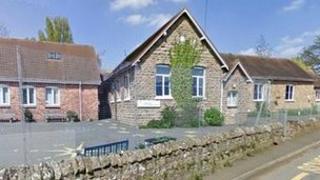 The first five pupils have started at a new village school that is staffed by volunteers and funded by donations.
In February council-run Whitbourne CofE Primary in Herefordshire was threatened with closure due to falling pupil numbers.
But it has now reopened as Whitbourne CofE Independent School & Hub, run by the community.
The school will apply for free school status in December, which would secure central government funding.
The new non-fee-paying independent school, for children aged four to 11, currently operates using volunteers and donations.
In February Herefordshire Council said pupil numbers at Whitbourne CofE Primary had fallen to 25 and forecasts indicated they could fall further.
'Thrilling experience'
The diocese is allowing the new school to function in the same building previously used by Whitbourne CofE Primary.
The new school's leader, Sheenagh Davis, said the school "means a lot to the community".
She said: "A lot of people have pledged and supported the school and they are very passionate about having the school in the community.
"I'm very privileged to be given the opportunity to work alongside the community to develop this school. It's a pretty thrilling experience."
Mrs Davis said the school could not open until now because of legal issues and a consultation process involving the council.
She said: "We only got the keys on Tuesday. We've had four days to turn it around and get in today so it's the quickest we could do it."
The school leader said some lessons would take place outside, at sites including a forest site and a farm.
She added: "There's going to be an allotment which is being given over to us by the local village shop, also run by community volunteers, and we're going to be working very closely with that shop."