Hereford & Worcester Fire Service cuts threaten 144 jobs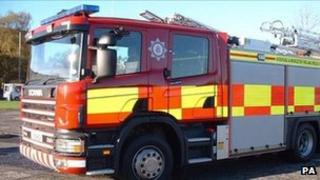 About 140 jobs are at risk as Hereford & Worcester Fire and Rescue tries to save £4.7m in three years.
A public consultation on closing stations and reducing the number of fire engines has started.
The Fire Authority's Community Risk Management Plan (CRMP) also includes a merger with Warwickshire Fire and Rescue.
Deputy chief fire officer Richard Lawrence said: "These are difficult times for everyone."
He said about 44 full-time posts were at risk as well as 80 part-time jobs.
"That is the worst case scenario, there are other options in between that," he added.
Bewdley, Broadway, Kingsland and Whitchurch fire stations could all close.
Chief fire officer Mark Yates has said "tweaking the back-office will not be enough".
The Fire Authority will analyse the results of the consultation, which ends in January, on 19 February 2014.