Worcestershire County Council to cut another £20m over four years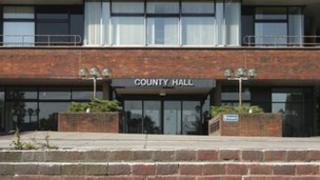 Worcestershire County Council has confirmed it needs to save an extra £20m over the next four years.
The Conservative-led authority now needs to make savings of £30m - £10m more than forecast - by 2014-15.
A further £25m per year is to go "until at least 2016-17" £10m more than predicted, said the council's leader.
Adrian Hardman said no more jobs would be cut on top of the 1,500 previously announced but it might need to outsource more services.
He said it was unclear which areas could be affected but confirmed the adult social care budget would be ring-fenced.
"We will need to do things differently so services may look and feel different," Mr Hardman said.
"The council is proposing to increase budgets where we have significant pressure from increased demand, in areas such as Looked After Children and services to vulnerable older people."
He added he would not rule out putting up council tax to meet the shortfall.
'Backwards step'
Labour group leader on the county council, Peter McDonald, said: "It's horrendous what's going to happen, there won't be a service that won't feel the sting.
"In the first couple of years we expected there to be cut backs but (the Conservatives) have got to make the point that only local government can provide certain services.
"The county as we know it will lose at least 60 per cent of its services, it's a backwards step and we can't allow these cutbacks to happen."
In January the council said 650 jobs will go by 2017, in addition to the 850 redundancies it has already announced.
It had admitted that a further £10m worth of savings could be necessary on top of the £90m already forecast.