Rhythmicity instruments stolen in Bewdley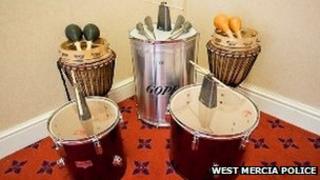 Hundred of musical instruments worth about £5,500 have been stolen in a theft described as "devastating" by their owner.
A trailer of 30 drums and about 200 percussion instruments was taken from Bewdley, Worcestershire, on Monday, police said.
Tim Scarborough uses them for his company Rhythmicity in workshops at schools, churches and businesses.
"The theft has pretty much wiped me out," he said.
West Mercia Police said the trailer, which included tom-toms and African hand drums, was taken from Damson Way between 09:00 and 15:30 BST.
House-to-house inquiries have been carried out and police have appealed for witnesses.