Hereford project announces plans for war heritage site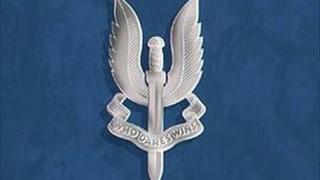 A project plans to apply for a multimillion-pound grant to create the first special forces heritage centre in Britain.
The team behind Hereford's Enterprise Zone want to turn a former shell factory into a visitor attraction.
The factory was built in 1916 to provide artillery for World War One.
The structure is 40,000 sq ft and has an unsupported span, meaning there are no pillars or supports inside.
'Sense of reverence'
Neil Kerr, vice-chairman of the Enterprise Zone board, said the factory building is as strong as ever, even though the walls are not overly robust.
"The walls were very thin because they were designed to blow out if the factory exploded," he said.
Mr Kerr said he wanted the centre to become a national attraction which would tell the story of the special forces in a sensitive way: "We will establish a real sense of reverence.
"Hereford is famous around the world for two things; beef cattle and our friends at the regiment."
The project also includes plans for exhibitions of women at war, men at war.