Worcester city centre revamp plans prompt concerns from traders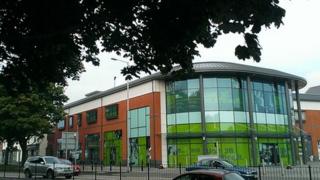 Plans to redevelop two areas of Worcester have been described as a "vote of confidence" by local councillors, but some independent retailers and shoppers in the city centre are sceptical.
A £100m redevelopment of the area near Shrub Hill railway station - including 600 new homes, a care village, offices, a cinema, bowling alley and ice rink - were approved last week.
Another site less than a mile down the road, Trinity House and the Cornmarket car park, has been put up for sale by the county and city councils on the condition that any buyer uses it for retail and leisure.
Business owners in the city said fewer car parking spaces and the impact of more competition, in addition to the recently opened St Martin's Quarter in Lowesmoor, was a worry.
"It's disgusting, there's been no consideration of shops like us and we get fewer customers now anyway," said Martin Pugh, store manager of House Wise Choice, near the Cornmarket.
"There are enough empty shops in Worcester that aren't being filled as it is and parking is a big enough issue for people in the town. We'll definitely lose customers."
'Damage done'
Wendy Beddows, owner of gift shop Adorned, said the new developments "won't make much of a difference".
"The Asda development (at St Martin's Quarter) has already taken away footfall," she said. "We're down by about two thirds from when that opened last year.
"But it also depends what sort of shops go into the new centres as that will depend on the type of customers they attract.
"But for us the damage has been done."
Mrs Beddows added parking was also an issue. She said her customers complained about the high price of nearby St Martin's Gate car park compared to Asda, which charges £1 for three hours.
Asda was the first store to open on the new £75m Lowesmoor site in March 2012 and, 18 months on, about half the units are still empty.
Selwyn Rowley, from developer Carillion Richardson, said the "quiet market" had meant slow progress.
"The tenants in there have been very positive and are doing well but it has been slower than we expected," Mr Rowley said.
"However, there are ongoing discussions with other retailers, both restaurants and shops, to open in the long term."
Empty shops 'unattractive'
Local shoppers gave mixed reactions but repeatedly flagged up the "half empty" St Martin's Quarter.
Tracy McGrath said: "The Shrub Hill development is a good idea but not sure about the Trinity house plans when they can't fill St Martin's."
Fiona Muncaster said: "It depends if they can find any shops to fill the units (of the new developments), having so many empty shops at St Martin's suggests Worcester is struggling.
"More empty shops won't do us any good - how do they think they're going to attract any more businesses?"
Adrian Field, manager of the Business Improvement District (BID), said he worried Worcester could become a city sprinkled with "white elephants".
"The development of Shrub Hill is good news, but we are concerned about the city centre," he said.
"We need to make sure the inner core (of the city) is looked after and the new plans are sympathetic to what we already have.
"My concern is we will end up with a load of white elephants and detract away from the traditional city centre."
Popi Pribojaz who owns Mango Juice, on New Street, welcomed the plans.
"It's so quiet where we are, the chance of more people walking past us might actually help business," she said.
City and county councillor Marc Bayliss said: "I'm not overly concerned, the units will fill up but it is surprising it hasn't been quicker.
"In terms of Shrub Hill, that is all private investment, which is great news going forwards.
"Nevertheless we do need to tread careful and not undermine the vitality of what we've already got in terms of existing retailers."