Man jailed for 'immense' cruelty to horses and ponies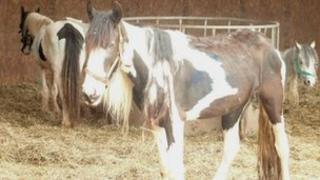 A man has been jailed for "immense" animal cruelty after 18 malnourished horses and ponies were discovered in sheds without food or water.
Police found the animals at sites in Bromyard, Herefordshire and Bringsty, Worcestershire in July last year. Two of them had to be put down.
Mark Hall, 46, from Bringsty, pleaded guilty at Hereford Crown Court to severely neglecting horses and ponies.
He was sentenced to 23 weeks and told to pay more than £14,000 in costs.
Owen Beale, from the Crown Prosecution Service (CPS), said: "Mark Hall inflicted immense cruelty and unnecessary suffering to animals to which he owed a duty of care.
"When arrested, Hall maintained that the animals suffered from a respiratory infection and salmonella, but there was no evidence that he administered any drugs or sought any medical help for them."
Banned from horses
Mr Beale said the remaining 16 horses and ponies were taken to the Bransby Rest Home for Horses near Leominster where they had been nursed back to health.
He added one horse, suffering from an untreated injury, had to be put down along with another which collapsed the day after it was taken to the sanctuary.
Hall pleaded guilty to five counts of causing unnecessary suffering to protected animals and three counts of failing to ensure animal welfare, the CPS said.
The CPS said he was banned from dealing in horses, sheep, cattle or pigs or from transporting or owning them for 15 years.
Hall was ordered to reimburse the rest home for £13,571.51 for vets fees and to pay prosecution costs of £1,800, the CPS said.