Evesham Road collapse adds to potential traffic problems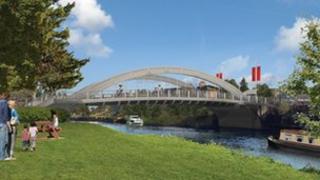 A section of road in Worcestershire has collapsed, adding to potential traffic problems caused by a bridge closure, the county council has said.
The subsidence was discovered on Worcester Road, Evesham earlier. A 10-week project to replace the town's Abbey Bridge starts on Thursday.
A Worcestershire County Council spokesman said the timing is "not ideal".
Everything is being done to fix the problem as soon as possible, he added.
The council said its priority is to ensure the area is safe for motorists and pedestrians.
Temporary lights will control traffic on the Evesham Road while the road is repaired.
An £8m project will replace the Abbey Bridge, which currently has a 7.5 tonne weight restriction.