Bow Brook work at Drakes Broughton boosts wildlife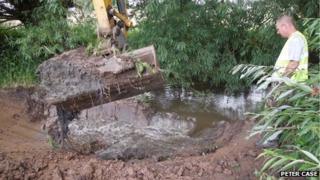 Restoration has been completed to benefit fish, wetland birds and mammals along a section of brook.
The work, costing £15,000, was done on parts of Bow Brook at Drakes Broughton in Worcestershire, which were found to have sub-standard quality water.
Improvements include new gravel beds to increase spawning, and a refuge for young fish.
Wetland habitats have been created on the floodplain to reduce sediment from arable run-off entering the brook.
The Environment Agency, which funded the work along with the Wildlife Trust, said it wanted to attract lapwing and otter to rivers and streams in Worcestershire, Gloucestershire and Shropshire.
'Buzzing with wildlife'
The partnership was formed to tackle the issues facing the region's watercourses as many of the rivers and streams are failing to meet good ecological status under European standards.
Giles Matthews, biodiversity officer from the Environment Agency, said: "Caddicroft Farm where work has been carried out is now buzzing with wildlife and the new wetland areas and pools will play an important role in reducing run-off from the land into the brook and improving water quality."
Farmer Allan Morris said: "It's great to have been involved with this work on the brook and to see it looking like the babbling brook of my childhood."
Further partnership work is planned to be carried out later this year, led by the Worcestershire Wildlife Trust, at several locations along the Bow Brook including Huddington, Feckenham and Webheath.