Worcestershire trust apologises over complainant Andrew Brown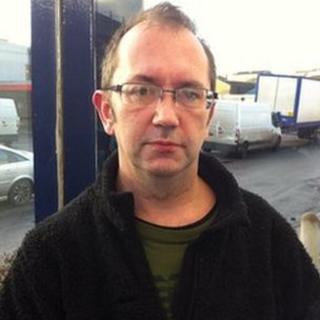 A hospital trust has apologised to a man it effectively banned from making complaints about its service.
Andrew Brown complained after he was not given a local anaesthetic when he had a nasal endoscopy at the Worcestershire Royal in November 2011.
Worcestershire Acute Hospitals Trust listed him as a "vexatious complainant".
Mr Brown, from Worcester, appealed and the Health Ombudsman has found in his favour.
He had previously made a separate complaint to the trust about another health matter.
In 2012, the hospital trust listed him as "vexatious", describing someone who sends excessive amounts of correspondence, refuses to accept their complaint is being dealt with or keeps bringing up unrelated complaints.
The term also applies to complainants who are abusive. It meant the hospital could refuse to deal with further complaints from Mr Brown.
'Incredibly frustrating'
He said: "The whole episode was incredibly frustrating and to be vindicated by an independent inquiry is a huge relief.
"I can understand [the hospital would get annoyed at more than one complaint] but the important thing is whether the complaints have merit.
"If you're making a complaint sincerely and seeking answers then they're valid."
He said the ombudsman found the hospital should deal with every complaint.
A statement from the trust said: "We would like to apologise for the undue anxiety that this process has caused Mr Brown.
"We have met with Mr Brown and taken onboard a number of his concerns.
"Listening to patients and putting things right following complaints is very important to our trust, and we've updated our complaints policy to reflect this."
Mr Brown said the trust's policy was not changed until after he pursued the issue with the Health Ombudsman.
"The whole process has been part and parcel of trying to get something changed for the better, for others," he said.