Cinderella Sports Ground in Worcester to be restored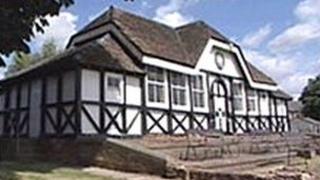 A former sports ground is to be revamped and brought back into use.
The Cinderella Sports Ground, home to Worcestershire County Cricket Club until 1899, had been under threat of demolition.
The city council has approved plans by Worcester College of Technology to convert it into a sports ground for students and community use.
The college will build a one-storey extension to the pavilion for new changing rooms and shower facilities.
It will also reinstate the pitch and put in 30 car park spaces.
Nesting sparrows
The site in Bransford Road was part of the city's Kay & Co complex and is now owned by the Arndale Property Company.
It has not been used for sport for about eight years, the council said.
The authority said the company had wanted to demolish the pavilion on the site in March 2006 but a conservation order was placed on the building after sparrows were found nesting in it.
The name 'Cinderella Ground' originated from when the workers at Willis's Cinderella Shoe Factory used the facility.
The factory was built to the east of the sports ground in 1914.