Lottery cash for Kidderminster Weavers' Cottages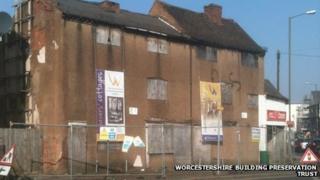 A project to save 18th Century buildings where yarn was produced has secured £730,000 in lottery money.
The Grade II listed Weavers' Cottages in Kidderminster, Worcestershire, included attic workshops and living space on two storeys below.
Once restored, they will be sold as three separate three-storey properties.
Worcestershire Building Preservation Trust said they were derelict but expected to be ready for new owners to move in by the end of next year.
The oldest cottage, 22 Horsefair, was believed to have been built in about 1709, the trust said.
Open days
Trades practised in the other two cottages, which look like terraced houses, included confectionery and shoemaking.
The project will see these buildings refurbished to current domestic standards "with minimum intervention and maximum retention of historic fabric", the trust said.
It said it was aiming to be ready to invite tenders for building work early next year, with the £1m work on site starting in the summer.
Open days will take place during the work.
The trust said it had secured £730,000 from the Heritage Lottery Fund and current owners Wyre Forest Community Housing had agreed to transfer ownership to the trust for an undisclosed amount when building work starts.
Money from the sale of the buildings will go to the trust.