Plans submitted for Drakelow Tunnels museum and cafe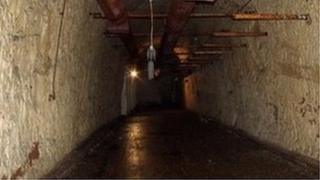 A tunnel network used as a World War II and Cold War bunker could be turned into a museum and coffee shop under newly submitted plans.
Drakelow Tunnels in Kidderminster, Worcestershire, housed an underground factory producing aircraft engines.
In the Cold War they were turned into a regional seat of government in case of a nuclear attack.
The site, which has a reputation for paranormal activity, was sold when the Cold War ended.
The plans to turn the underground site into a museum and coffee shop were submitted to Wyre Forest District Council by the owners, Quercus Ilex, and the development would be funded by building three semi-detached houses nearby.
The tunnels are spread over 285,000 sq ft.
They were built by Rover under the Ministry of Aircraft Production's Shadow Factory Scheme, and were used for machine workshops and storage.
In the 1980s, the government refurbished many parts of the nuclear site, under plans to accommodate important local and national government personnel, including the deputy prime minister, as well as the armed forces some medical staff.
Sid Robinson, one of the volunteers with the Drakelow Tunnels Preservation Trust, said he wanted the tunnels to be turned into a cafe and an education centre.
"We would recreate the eras of the '40s and '50s and set up the offices with desks and chairs like they used to be," he said.
"We'd also open the dormitories where the ladies and men used to sleep, and the operating theatre and factory.
"The original kitchens are still here and we would show footage of when they were working."
A consultation period ends on 15 September.