Mike Marsh stars in film to propose to Julie Courtney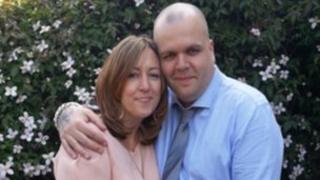 A man has proposed to his girlfriend by having a film he starred in played at their local cinema.
Julie Courtney, 38, from Kidderminster, Worcestershire, was on a night out with her friends when the packed theatre was told there was a technical problem.
Moments later a film came on which Ms Courtney's partner Mike Marsh, 39, had created.
The minute-and-a-half feature culminated with a proposal spelled out across the screen.
"I didn't twig for ages," said Ms Courtney.
"It was so professionally done, I didn't realise it wasn't a proper film.
"It was perfectly coordinated, he came out from the side with a ring and did it properly."
'Love isn't dead'
Mr Marsh, who edited his film with his sister, said: "It was great, everyone was crying and clapping when she said 'yes'.
"I am getting some stick from my mates though.
"They say I'm putting their proposals to shame."
Ms Courtney said her new fiance could not have made a grander gesture.
"Mike's my darling," she said.
"It's nice to know romance and love isn't dead."