Hereford factory fire heroes honoured 20 years on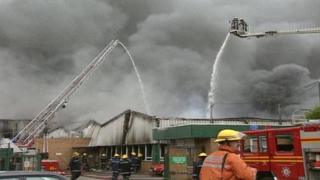 Two firefighters who were killed 20 years ago in one of Herefordshire's largest fires have been honoured in a ceremony by colleagues.
John Davies from Leominster and Dave Morris from Hereford died at the Sun Valley poultry processing factory when they were trapped by a fallen ceiling.
A parade and one minute's silence was held in memory of the "fine and brave" men.
The fire started in a unit used for defrosting meat.
At its height, 130 firefighters from the Hereford and Worcester fire service were at the scene, using 23 pumping appliances.
Strong insulation in the factory ceilings meant smoke and flames travelled unnoticed through the roof space, setting fire to ceilings which collapsed.
Julian Jenkins, the Fire Brigade Union chairman for Hereford and Worcester, said "It's a very poignant day today, 20 years after John and Dave died.
"I was off-duty when it happened and saw a massive plume of smoke.
"I went straight to the station where news was filtering in that our colleagues had died."
'On the telly'
Norman Stifler, who lived nearby in Yazor Brook, said: "It was terrifying.
"I've never seen anything like it.
"Me and the wife couldn't stop looking, it was like a proper horror programme on the telly."
Mr Jenkins said safety had improved since the tragedy: "We've come a long way, the kit is better and the training is better.
"We have more sophisticated breathing equipment and every fire engine has a computer with details of potential hazards in buildings.
"We're prepared now for dealing with large fires, down to pulling dogs out of badger setts.
"But at the end of the day, it will always be a dangerous job."
There is also a plaque at Hereford fire station dedicated to leading firefighter Davies and firefighter Morris.