Dead M5 pedestrian John Wood had been due in court for fraud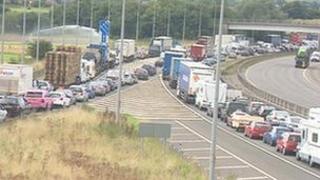 A pedestrian killed when he was hit by a lorry on the M5 on Monday morning had been due to stand trial for fraud at Worcester Crown Court later that day.
John Wood, 59, from Birch Mews, Leeds, was struck between junctions 5 and 6, near Droitwich.
He was accused of stealing £78,000 from a fund Herefordshire Council had set up to pay for a new computer system.
The ex-financial consultant was also charged with stealing £35,000 while he was a project manager in East Anglia.
West Mercia Police said Mr Wood was found lying in one of the lanes on the southbound carriageway after he was hit at about 07:40 BST.
A spokeswoman said "It is not yet known why he was on the motorway."
West Midlands Ambulance Service said the man died at the scene.