European rhinoceros beetle found in Worcestershire garden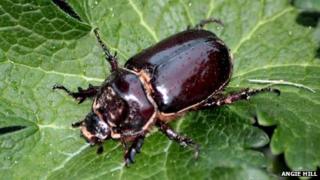 An amateur naturalist says she was "very excited" to find a rare giant beetle in her garden.
The European rhinoceros beetle was found by Angie Hill in Martley, Worcestershire.
Conservation trust Buglife identified the beetle from a photo Ms Hill sent them and believes it is the first time it has been found in Britain.
The beetle can grow up to 6cm (2.36in) and can lift 850 times its own weight.
Ms Hill saw the beetle when she went to look at moth traps she uses to count species for the Teme Valley Wildlife Group.
"I saw this huge beetle, which was very shiny like a conker, and so I grabbed my camera," she said.
'Escaped pet'
She sent the photo to Buglife, assuming it was a large stag beetle, only to be told it was believed to be the first sighting in Britain of the European rhinoceros beetle.
"It's very exciting to think that it is in my garden living happily," she said.
"The beetles are completely harmless, so if anyone sees one they should just take a photograph and let it go on its way."
The beetle she photographed was a young female.
Matt Shardlow, from Buglife, said: "We need to find out whether it's an escaped pet, an accidental introduction, perhaps with wood chips, or whether they are actually breeding in the wild."
He said the European rhinoceros beetle feeds in decaying wood so it is possible they are breeding in an ancient wood in the Wye valley.
"Worcestershire is an area famous for the Noble chafer and other rare beetles associated with dead wood," he added.
Steve Bloomfield, from the Worcestershire Wildlife Trust, believes a colony of the beetles could survive in the area.
"If there is a small population, at least one male and female, they could definitely survive if we get a warm series of years like we've had in the past.
"One of the reasons we want people to send in records of these exotic species is so that we can track what happens to them thereafter."