Worcester pheasant rustlers snatch 1,000 birds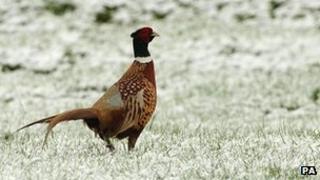 More than 1,000 game birds have been stolen from pens on farmland in Worcestershire.
Approximately 150 pure white pheasants were among those snatched.
The theft at Little Brockamin Farm on Dingle Road, Leigh, happened between the start of July and 28 August.
A police spokesman said: "Pheasant rustling is uncommon. When cases marked 'pheasant' come across my desk, it has always been connected with pubs named after pheasants. Not real pheasants."
White pheasants are large meaty birds, prized by butchers for their pigment-free skin.