Worcester city shopping centre plans revealed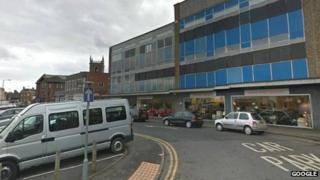 Early plans for a new shopping centre in Worcester have been revealed.
Trinity House, owned by the county council, and its neighbouring Cornmarket car park, owned by the city council, are to be jointly put up for sale next month.
The site will be sold on the condition that retail and leisure facilities are installed on the ground level of the redevelopment, a spokesperson said.
It is unclear what price the site will be marketed for.
A large shop unit in Trinity House, previously a supermarket, is currently a furniture store.
Councillor Geoff Williams, from the city council, said: "This is an ambitious approach to deal with the pressing need for closer links between the High Street and the newer retail and leisure facilities at St Martin's Quarter (in Lowesmoor).
"The whole of Worcester's economy will benefit from this bold approach, as it will bring in more visitors to shop and spend time in our city."
A shortlist of developers interested in buying the site will be ready by Christmas, the city council said.