Alexandra Hospital in Redditch sorry over mother's death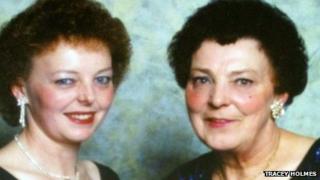 A hospital has apologised to a woman whose mother "died in squalor without basic human dignity".
Tracey Holmes, from Evesham, Worcestershire, said her 79-year-old mother was left "cold and desperate" at the Alexandra Hospital in Redditch.
Sandra Aston was admitted to the ward in April 2012 and died less than a week later of lung and liver cancer.
The hospital said: "We are deeply sorry for her family's experience, and have learned from it."
Mrs Holmes said every time she visited her mother, the room was "a tip" and Mrs Aston had cracked and bleeding lips from dehydration.
"It got to the point where we were bringing in ice lollies so she could suck them," she added.
"She was having steam treatment through a mask and the bottle of of water supplying it was empty.
"It was only when a physio came in and got a doctor that she was looked after."
Enough is enough
Mrs Holmes, 51, said after her mother's death she wrote a formal letter of complaint, which was ignored.
"I telephoned the head nurse about it and she told me she would call me back, but she didn't.
"I called again and she left a message on my answer phone saying she didn't know who I was or what I was talking about."
In December 2012, Health Secretary Jeremy Hunt said he was "disgusted and appalled" at accounts of patient neglect at the Alexandra Hospital.
A letter of apology from the Worcester Acute Hospitals Trust said: "We accept that aspects of the care [Mrs Holmes' mother] received were unsatisfactory.
"We have been in regular contact with Mrs Holmes over the last year to talk about how we have learned from her experience.
"We would be happy to meet with the family again to address their needs."
But Mrs Holmes said: "The apology is pathetic. I don't know what the next steps are, but I know I won't stop complaining until I am sure other people aren't treated the same way as my mum.
"It's simple. Enough is enough."