Worcester Warriors team bus catches fire on M5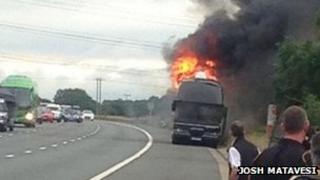 The team bus for Worcester Warriors rugby team has caught fire while travelling on the M5 motorway.
The team were travelling southbound between junction 14 and 15 near Bristol on their way to a pre-season game against Ospreys in Swansea.
Chief executive Charles Cameron said all players and staff got off the bus and were safe and well.
A replacement bus took the team to the match, which kicked off late at 16:30 BST.
It is not yet known how the fire started, Mr Cameron said.
'Bit scary'
"Fortunately the driver noticed there was smoke coming out of the back of the bus, he pulled over and the bus caught fire... its been totally gutted," he said.
"I think everybody was in a state of shock but the most important thing is everyone is safe and sound."
Worcester Warriors coach Shane Howarth said: "Smoke started filling the bus and we got off as quickly as we could.
"We got ourselves a couple of hundred metres away because the flames were flying up behind it. It was a bit scary but everyone got out in one piece."
He said some of the players had lost personal items in the fire.
"It chills you a little bit because if it had blown up we could've been in a little bit of trouble.
"Thankfully whoever was looking after us made sure it didn't."
Worcester's players showed no ill-effects in the match as they took a 12-3 lead early on, although the Ospreys eventually came back to win 23-19.
One lane was closed on the M5 southbound for three hours between junction 14 for the B4509 and junction 15 for the M4 leading to long delays for drivers, the Highways Agency said.