West Midland Safari Park opens new lion enclosure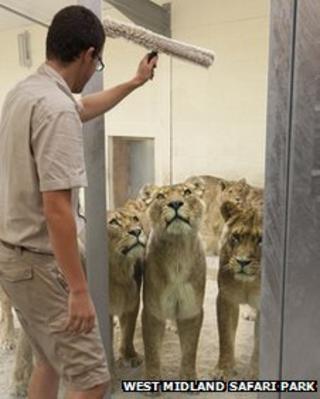 A new £500,000 lion enclosure has opened at West Midland Safari Park.
The home for 13 African lions is the final stage of the Realm of Lions exhibit, which opened to mark the Worcestershire park's 40th anniversary.
The enclosure boasts central heating, air-conditioning, CCTV, intruder alarms and 24-hour outside access.
Wildlife director Bob Lawrence said: "I think [it] reflects the modern concept of how we should be keeping animals in captivity."
Mr Lawrence said: "There's not mountains of steel and concrete… it's open plan, free range and it gives the animals potentially 24-hour access when we shut them in at night."
Earlier this year, a fully landscaped reserve and an off-road track opened as part of the exhibit.